A look at TAE Chief Science Officer Toshiki Tajima's life
Long before he became TAE's Chief Science Officer and an award-winning pioneer in the field of fusion energy, Dr. Toshiki Tajima was a young scientist studying fusion in Tokyo, where his daily walks took him past Shinobazu Pond.
There, he observed a simple phenomenon: A mother duck paddling through the water and a string of ducklings gliding along behind in her wake. They traveled together at the same speed, despite their difference in size and strength.
"The baby duck — is very, very smart. They try to save their energy, so they ride on the wake that the mother duck creates. So if you ride on the wave, you can go without too much energy," Dr. Tajima told Japanese state public broadcaster NHK WORLD-JAPAN in a recent interview.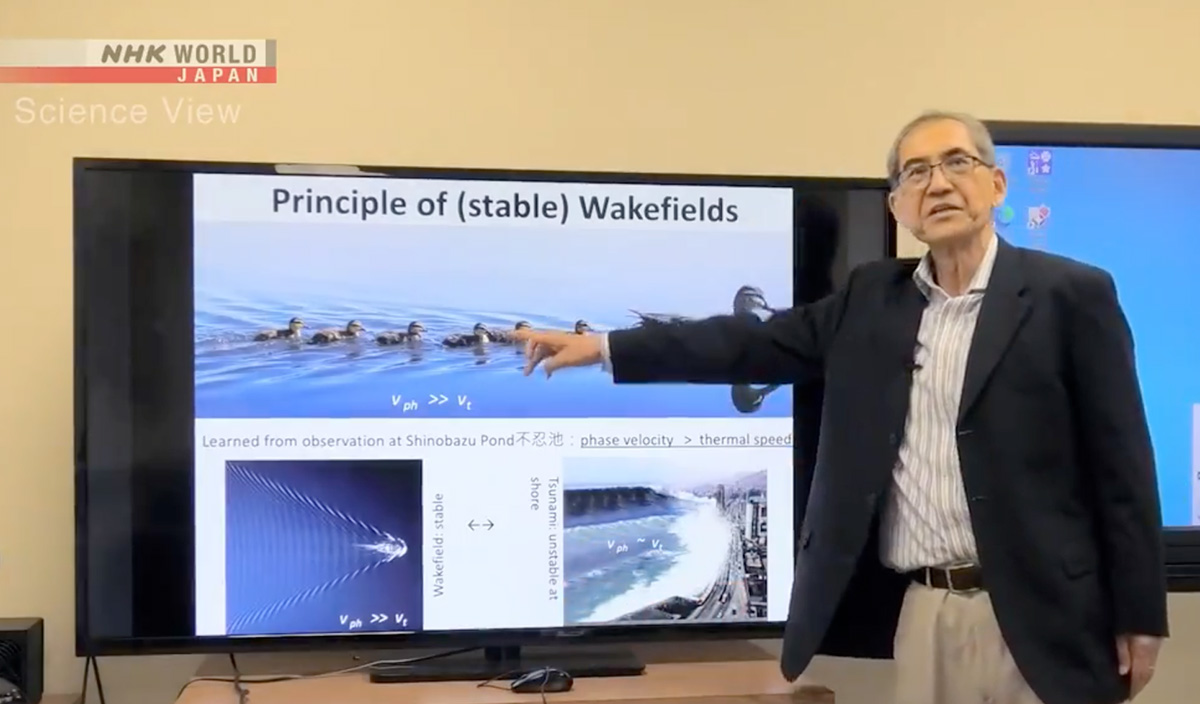 To Dr. Tajima, the ducklings represented particles that can be accelerated by the wakefield, and that simple observation helped him invent laser electron acceleration (also known as Laser Wakefield Acceleration). His four-page research paper, titled "Laser Electron Accelerator," detailed his insightful look at a core understanding of fusion science in what has become one of the most cited articles in plasma physics.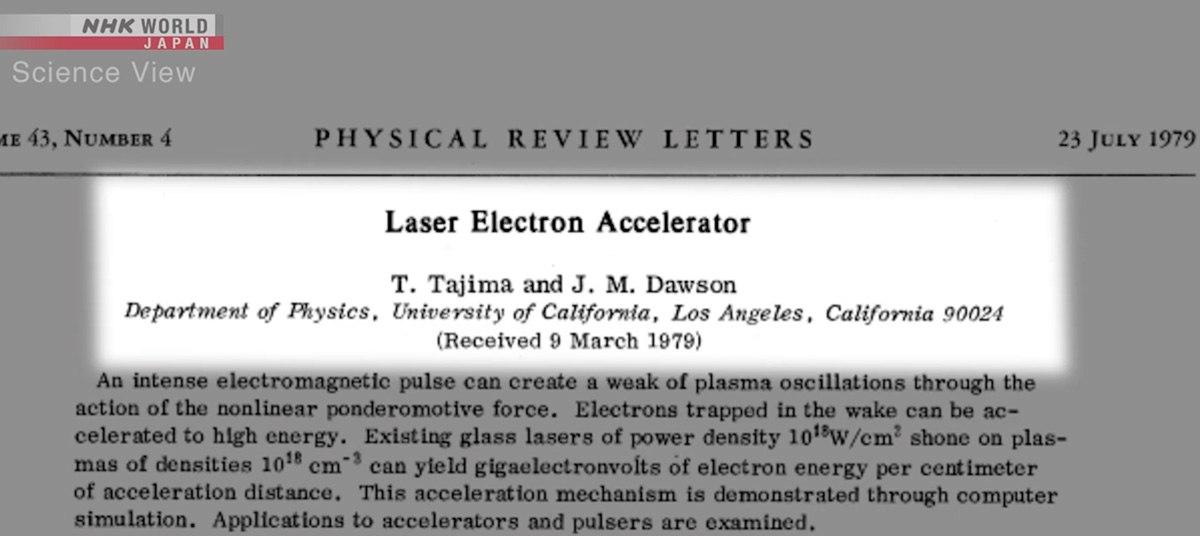 Now at age 75, Dr. Tajima is currently the Norman Rostoker Chair professor at UC Irvine and an author of 12 books and more than 600 papers, including work published in Physical Review Letters and The Astrophysical Journal.
He has won numerous accolades for his scientific work, including the Nishina Memorial Prize, the Enrico Fermi Prize, Chandrasekhar Prize, APS Robert Wilson Prize, Alfven Prize, Charles Townes Award, the Blaise Pascal Chair, and the Einstein professorship.
Dr. Tajima's countless contributions to the world of science and physics don't end there. As TAE's Chief Science Officer, he leads the world's best scientists and engineers in the pursuit of making commercial hydrogen-boron fusion energy a reality.
To do so, he decided to travel to the United States to attend the University of California, Irvine, for a particularly important reason: Professor Norman Rostoker. Dr. Tajima wanted to be mentored by one of the founding fathers of plasma physics, and earned his Ph.D. under Dr. Rostoker—becoming Rostoker's first Irvine-educated Ph.D. student.
Growing up in Japan, Dr. Tajima had never met a man like Norman Rostoker. When he first flew from Tokyo to Southern California to study at UCI, "the great physicist" picked him up at the airport while "wearing a Hawaiian shirt, sunglasses and worn-out sandals," and exhibiting a casual, warm-hearted attitude, Dr. Tajima recalls with a smile. From that day forward, the fusion pioneer not only worked alongside Dr. Tajima but, over countless games of pool and regular check-ins about their experiments, they also became life-long friends.
Rostoker went on to become the technology co-founder of TAE Technologies in 1998.
"Professor Rostoker had a maverick idea that fusion research should look at and work from the 'end in mind.' That is, the 'end' is a fusion reactor, not just plasma physics, and step-by-step improvement," Dr. Tajima said in a recent conversation with colleagues at TAE.
It was Dr. Rostoker's vision for the commercial application for hydrogen-boron fusion energy that has inspired Dr. Tajima and countless other fusion scientists who want to see their field expand beyond the incremental world of academic understanding to advanced real-world applications. Dr. Rostoker asked Dr. Tajima to join TAE in 2011, where he still serves as Chief Science Officer.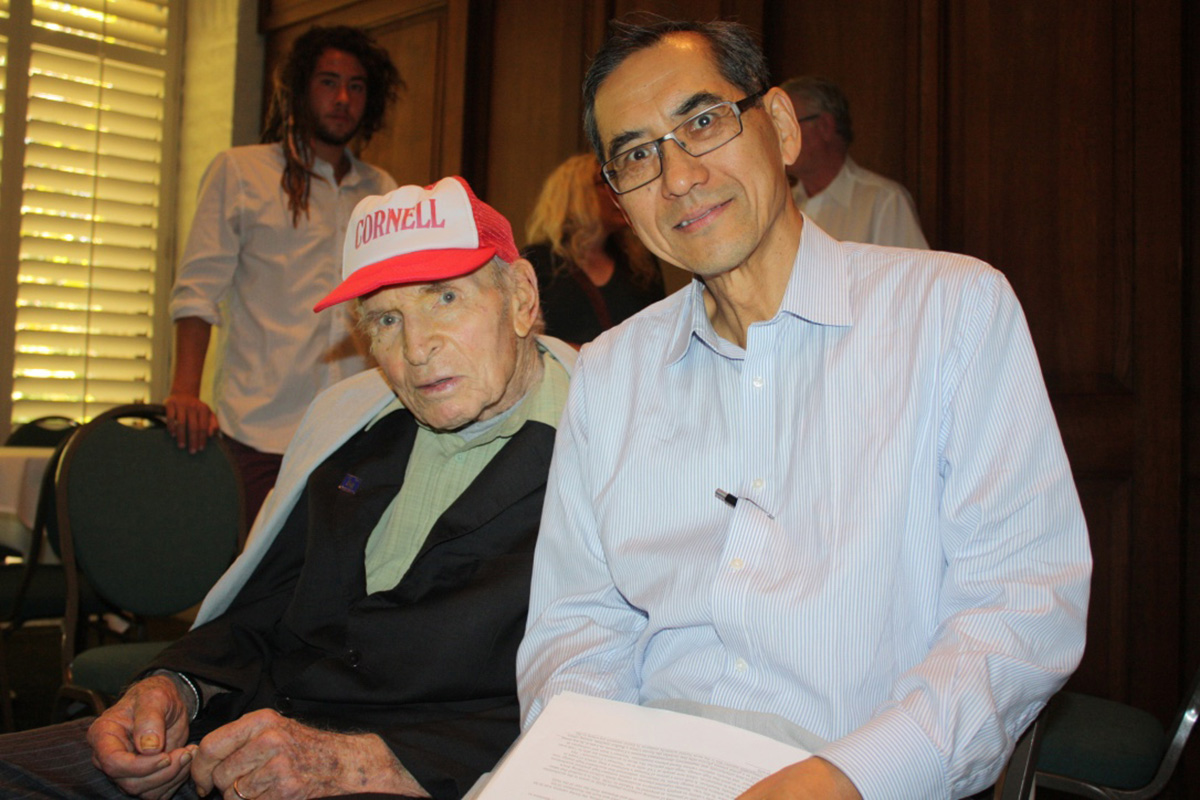 Dr. Tajima only wishes Dr. Rostoker was still here to see the advancements that TAE has made. His beloved mentor and colleague passed away in 2014.
"Alas, he decided to ascend to heaven just nine years too early," Dr. Tajima said, adding that he believes Dr. Rostoker is looking down from heaven and telling him, "I told you so."
In fact, Dr. Tajima is excited to further prove that his beloved mentor was right all along. After building five generations of National Laboratory-scale devices, TAE is concurrently developing two more. First, the device dubbed Copernicus will demonstrate the viability of net energy gain around mid-decade, and then the Da Vinci reactor will be ready to deliver hydrogen-boron electricity to the grid. Ground has already been broken on the Copernicus site.
"Beyond this (Copernicus), we plan to design and build 'Da Vinci' which will be a reactor. So this is the 'before that stage.' It's already very close," Dr. Tajima told NHK WORLD-JAPAN.
For Dr. Tajima and other colleagues at TAE who were educated by Dr. Rostoker, including CEO Dr. Michl Binderbauer, working toward fusion development has become a shared mission.
"To me, it became a holistic calling now in my life, not only for the sake of creating cool technology and making a difference economically, but to really try to attack one of the most existential problems of our time, which is climate change," Binderbauer told NHK.
That mission extends around the world, and Dr. Tajima is especially proud of TAE's work with colleagues at the National Institute for Fusion Science (NIFS) in Japan, where recently the results of an experiment published in Nature Communications showed that it is possible to produce the conditions necessary for hydrogen-boron fusion in the Large Helical Device plasma.
It's one more accomplishment that reflects TAE's longstanding and productive relationship with Japan, and Dr. Tajima has been instrumental in this.
In 2021, TAE announced a partnership with NIFS that would enable both organizations to test the effects of hydrogen-boron (p-B11) fusion reactions in the NIFS Large Helical Device.
"The collaborative relations between the US and Japan started with vigor when President Carter and Prime Minister Fukuda signed a treaty on US-Japan fusion collaboration in 1978," Dr. Tajima said in the partnership announcement press release.
Dr. Tajima's long career reflects a commitment to not only create the most safe, clean, abundant power the world has ever known, but to bring the world's best scientists together in the pursuit of this better future.